Simple View
Introduction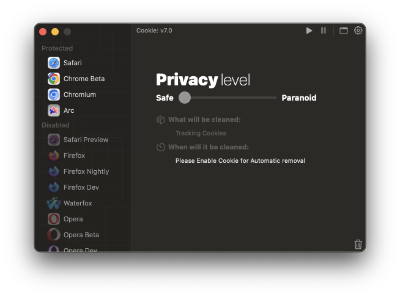 The Simple view gets you up and running as fast as possible, but only has minimal options. You set it up as follows:
Select which browsers you would like to manage.
Use the slider to select which data you want removed and how 1often.
Cookie will scan and remove all data not related to your browser bookmarks (in all enabled browsers) according to your settings. A handy Clean Now (trash can icon) button is included to instantly remove all selected data. 2Global Pause/Enable Cookie buttons are also included.
1. The timer icon will be colored when your settings include removal while your browser is running. I generally don't recommend this, as it can cause issues on some websites.
2. The Pause/Enable buttons are useful for quickly disabling/enabling Cookie, without having to manually change any settings. When Cookie is disabled, the menuBar icon will be a dull gray color.
Browser Selection
Along the left side of the window you will see a vertical list of all compatible browsers.
Enabled browsers will have a brightly colored icon, and be displayed under the Protected heading.
Disabled browsers will have a faded icon, and be displayed under the Disabled heading
Click on any browser to toggle it between enabled and disabled. All enabled browsers will be managed according to your settings.
Settings
All removal settings are determined by the Privacy level slider. The closer to the right the slider is, the more aggressive your privacy settings will be.